Medieval Fiction

Medieval Jewish Historical Fiction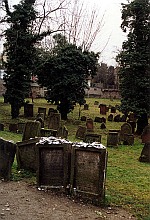 Tombs of Meir of Rothenburg and Alexander ben Salomon Wimpfen in the Jewish cemetery in Worms, Germany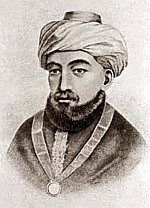 Moses Maimonides, also known as Rabbi Moshe ben Maimon,
the preeminent medieval Jewish philosopher and one of the greatest Torah scholars of the Middle Ages.
Although his copious works on Jewish law and ethics were initially met with opposition during his lifetime, he was posthumously acknowledged to be one of the foremost rabbinical arbiters and philosophers in Jewish history. Today, his works and his views are considered a cornerstone of Jewish thought and study.
Medieval Book Reviews !
All Things Medieval !
The Fruit of Her Hands:
The Story of Shira of Ashkenaz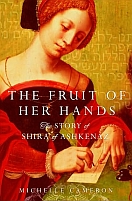 by Michelle Cameron


The voice of a rabbi's wife in the medieval world


As the daughter of widowed thirteenth century rabbi and Talmudic scholar Shmuel ben Solomon, Shira's early childhood seems charmed. A father's love for his daughter brings her into the classroom where she has the privilege of learning not usually available to women. Although her family maidservant Jeanne and Shira do not share the same religion, Shira adores Jeanne and the warmth she brings. Not until Jeanne leaves and marries does Shira begin to see the uneasy relationship between Judaism and Christianity in the world outside her home. Shira forms a connection with Nicholas Donin, a student in her father's school, a connection that will change over time as his position changes. As Shira marries Rabbi Meir ben Baruch, a man who will become widely known for his responsa to Talmudic questions, has children and ages, her life moves from Normandy to Paris, England and Germany. As she seeks to raise her family, Shira witnesses the growing hatred and pogroms against European Jews. Amid the hardships she experiences, she is a woman devoted to her family and to the spirit of her religion.
In her first person narrative of the life of Shira of Ashkenaz, Michelle Cameron illuminates a lesser known corner of Medieval history yet a period known as the silver age of Jewish scholarship through the eyes of a woman who might have lived in this time. Combining meticulous historical research with fictional imagination, Michell Cameron gives voice to the struggles and hopes of Jewish women whose stories we do not know through historical records. Most of the male figures from Shira's father, husband and Nicholas Donin are real historical figures whereas, as mentioned in the author's notes, Shira's life is wholly imagined. The concept of b'shert, predestined soul mates, informs Shira's life as well as the emotional imagery within the novel. Shira is intellectually astute, compassionate towards others, devoted to her religion not only in terms of her actions but also in her heart. Though she may fear some of the tasks before her, she is a woman who stands strong in the face of adversity and unthinkable horrors. Her internalization of the psalms and other religious texts inspires. Michelle Cameron does an excellent job at detailing the sacred respect for Jewish texts and scholarship while also allowing the reader to experience medieval Judaism on an everyday practical and emotional level.
THE FRUIT OF HER HANDS unfolds with suspenseful atmosphere as one feels trouble brewing and alongside Shira hopes somehow the threats facing her will somehow dissolve. I find it easy to identify with her emotionally despite many differences. I simply could not put this book down and eagerly awaited the moments when I could pick it up again. Readers fascinated with the medieval period will appreciate Michelle Cameron's attention to detail not only to the history but also in her incorporation of medieval literature into the plot. Most of all, Medieval enthusiasts will relish the opportunity to view medieval history through a new lens. As a modern reader, later history cannot help but inform one's reading of THE FRUIT OF HER HANDS, giving it even more power and meaning. While clearly placing her story within a specific thoroughly researched historical moment of time, Michelle Cameron also captures timeless themes that makes THE FRUIT OF HER HANDS resonate with modern readers. Whether your interest is in the time period itself, Jewish history, or the spirituality of women, THE FRUIT OF HER HANDS is a treasure.
Publisher: Pocket (September 2009)
Review courtesy of Amazon Vine
Crafting a richly textured, absorbing novel based on the life of her ancestor, renowned thirteenth-century Jewish scholar Meir ben Baruch of Rothenberg, Michelle Cameron paints a page-turning and deeply personal portrait of Judaism in medieval France and Germany. Imagined through the eyes of Rabbi Meir's wife, Shira, this opulent drama reveals a devout but independent woman who struggles to preserve her religious traditions while remaining true to herself as she and her family witness the rise of anti-Semitism in Europe.
Raised by her widowed rabbi father and a Christian nursemaid in Normandy, Shira is a free-spirited, inquisitive girl whose love of learning shocks the community. But in Meir ben Baruch, a brilliant scholar, she finds her soul mate and a window on the world of Talmudic scholarship that fascinates her.
Married to Meir in Paris, Shira blossoms as a wife and mother, savoring the intellectual and social challenges that come with being the wife of a prominent scholar. After every copy of the Talmud in Paris is confiscated and burned, Shira and her family seek refuge in Germany. Yet even there they experience bloody pogroms and intensifying hatred. As Shira weathers heartbreak and works to find a middle ground between two warring religions, she shows her children and grandchildren how to embrace the joys of life, both secular and religious.
A multigenerational novel that captures a hitherto little-known part of history with deep emotion and riveting authenticity -- and includes an illuminating author's note and a Hebrew glossary -- The Fruit of Her Hands is a powerful novel about the enduring spirit of the Jewish people.