Medieval Connections
Store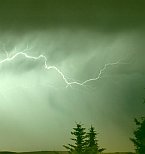 Lightning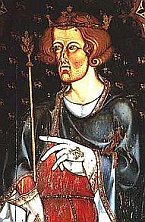 Edward I,
Popularly known as Longshanks, Edward I was a Plantagenet King of England who achieved historical fame by conquering large parts of Wales and almost succeeding in doing the same to Scotland. However, his death led to his son Edward II taking the throne and ultimately failing in his attempt to subjugate Scotland. Longshanks reigned from 1272 to 1307.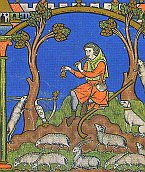 David, as a young man, playing pipe and bell as he watches his sheep in the pasture.
Source from The Morgan Bible, Folio 25. Date: ca. 1240-1259

Medieval Book Reviews !
All Things Medieval !
HOME
MEDIEVAL ROMANCE
MEDIEVAL MYSTERY
MEDIEVAL FICTION
MEDIEVAL ECHOES
AUTHORS
A Highlander of Her Own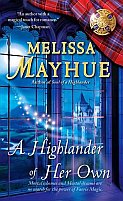 by Melissa Mayhue
Wonderful Medieval Scottish Time Travel!
In present day Prairieland, Texas, Ellie Denton's life has become more than complicated. Ray Stanton, her mother's ex-husband, is back in town trying to steal the family ranch out from under her. Ellie's gift with animals takes on an unusual twist when the animals start talking back to her. If that alone wasn't enough to upend her world, a simple wish for true love and an escape turns all too real when faerie magic transports her back to 14th century Scotland. Caden MacAlister has the weight of the world on his shoulders. Responsible for his family as well as the welfare of the land, Caden does not need a woman complicating his life, especially not one sent by the Fae! He has already experienced the kind of complications this kind of magic brings. Convinced she must be sent for one of his brothers, he now must protect her while trying to rescue a brother held for ransom. Ellie Denton, however, might just be exactly the kind of complication he needs if only he can learn to trust her and open his heart.



A HIGHLANDER OF HER OWN

is a lot of light-hearted fun.

A HIGHLANDER OF HER OWN

has a contemporary tone set by the delightful modern personality of the heroine now faced with a strange medieval setting. Told mostly through the heroine's point of view, A HIGHLANDER OF HER OWN is a wonderful mix of humor, fantasy and emotion. In addition, Melissa Mayhue creates a rich depth of character in her portrayal of Caden, allowing the reader to see the inner conflicts of the medieval hero though his point of view. She peers into his heart. Melissa Mayhue does an excellent job of bridging the two different time periods, not only in the description of the time travel itself but also in the hero and heroine's interactions and in showing those things that men and women of all ages have in common. The Texas backdrop and some comments the heroine makes about cowboys as she is faced with a different world (the medieval one) before her are priceless. Medieval enthusiasts in particular will appreciate Melissa Mayhue's portrayal of the hero and the contrast between the hero and heroine. Although Melissa Mayhue brings together a modern woman and a medieval hero, she does not use one as a foil for the other but rather treats each with a vision that sees into the character of both. In many ways, the medieval world view allows Ellie a certain freedom and opportunity to grow as an individual through love and also within herself as an individual. Ellie's ability to talk to dogs and animals adds humor while also creating a soft spot for her sense of compassion and boldness. Melissa Mayhue never uses the heroine's unusual connection to animals or the faerie magic as a mere plot devise or shortcut to make things just happen or make the hero and heroine do things without developing as characters. Instead, she fully integrates both aspects within the very fabric of her tale.

As Ellie and Caden are drawn together through a dangerous suspenseful subplot, the light tone of the romance changes in one brutal scene towards the end. In view of this, readers only wanting only light moments in a romance should be forewarned. Nevertheless, this moment is where Melissa Mayhue truly shows her skill. Here, everything so carefully built up beforehand comes together emotionally and in terms of plot and characterization. In my opinion, removing this scene would be detrimental to the depth of the romance. The ending is superb! The resolution adds several new twists. When faerie magic, love and determination combine, all things are possible!

Although fourth in the Daughters of the Glen series,

A HIGHLANDER OF HER OWN

works as a stand-alone romance. Melissa Mayhue gives just enough inkling to let the reader know the history behind the other romances in the series, but not so much that this book gets bogged down with past books.

A HIGHLANDER OF HER OWN

leaves new readers feeling satisfied rather than as an outsider trying to catch up with a series. Nevertheless, I certainly have a keen interest in discovering more about the hero's past after having met him in this book. Here in the fourth book, Melissa Mayhue handles the series aspect exquisitely with a fine balance between revitalizing the series itself with a new tale for lovers of series while also creating a romance that feels complete in and of itself for new readers --- but with just enough intrigue to make the past of the fictional world intrigue.

Melissa Mayhue's

A HIGHLANDER OF HER OWN

is a wonderful medieval time travel romance!

A HIGHLANDER OF HER OWN

is a romance that will appeal to a wide range of readers with its historical setting, contemporary heroine and magical atmosphere. Medieval enthusiasts will find a special delight in Melissa Mayhue's medieval world. For medieval lovers, the humor is even richer as Melissa Mayhue captures so perfectly the complications and delights of both the modern woman and the fascination with the medieval world.
Publisher:
Pocket (January 2009)
Book Description:


TEXAS, PRESENT DAY.
Ellie Denton's world has spiraled out of control. A strange new birthmark, animals talking to her, and her mother's ex-husband laying claim to the family ranch have her thinking life can't get more complicated. But Ellie doesn't know the birthmark's connection to her Faerie ancestors.
Complicated
takes on a whole new meaning with her innocent wish to find her true love.
SCOTLAND, 1304. Caden MacAlister has more trouble than he can handle. With his brother held for ransom and the laird missing, the last thing he needs is another problem. But the Fae have other plans. A mysterious woman shows up in his stables, sent by Faerie Magic to find her true love. Fighting his attraction, Caden insists she's meant for one of his brothers. With his history, he has no desire for a woman in his life -- especially a woman sent by the Fae.
Only the magic of the Fae can determine whether Ellie will find a Highlander of her own...