ARTHURIAN
FICTION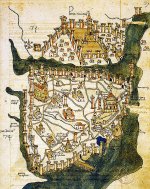 Map of Constantinople (1422) by Florentine cartographer Cristoforo Buondelmonte and the oldest surviving map of the city which predates the Turkish conquest of Constantinople (Istanbul) in 1453.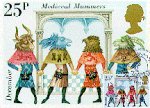 Medieval Mummers on British Postage stamp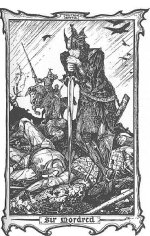 "Sir Mordred" by H. J. Ford, from King Arthur: The Tales of the Round Table by Andrew Lang, 1902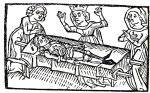 Medieval woodcut from the legend Tristan and Isolde
Medieval Book Reviews !
All Things Medieval !
HOME
MEDIEVAL ROMANCE
MEDIEVAL MYSTERY
MEDIEVAL FICTION
MEDIEVAL ECHOES
AUTHORS
The Squire's Quest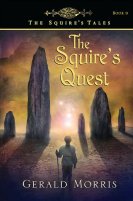 by Gerald Morris


A modern Arthurian retelling for all ages


In the ninth book of The Squire's Tales, Terence, squire to King Arthur's nephew Gawain, lives in the world of men as a stranger. For him, home is Avalon and the World of Faeries. Now, torn by the absence of connection to the other world, an absence which might mark trouble ahead for Arthur, Terence's duty remains in the land where he is but a visitor. He still has a task to perform for the king. From the appearance at court of Mordred and Alexander of Constantinople to the journey back to Alexander's home, Terence's adventures are full of intrigue, action and humor as he encounters the strange world of chivalry and political plotting.

THE SQUIRE'S QUEST, marketed as a children's book for ages 9-12, will appeal to young readers with its fast-paced action, dynamic dialogue, cleverly humorous insights and modern take on classic Arthurian literature. Terence is an admirable character with whom the reader easily aligns him/herself--- honorable at heart, intelligent and clever, kind and observant of those around him. Seeing the Arthurian world through his eyes is just downright fun. Gerald Morris paints a wonderfully detailed portrait of Mordred that givers new insights into his role as knight and traitor.

Although marketed as a children's book, THE SQUIRE'S QUEST will appeal to Arthurian literature fans of all ages. The author does not talk down to his audience, but rather enlists the readers of all ages as a companion of Terence, enjoying the humor and watching the unfolding intrigue alongside Terence. Although the adventure tales might seem geared to male readers, women readers will also appreciate some of the pointed delightful twists Gerald Morris gives to some of his characters. As a book marketed to younger readers, the take on courtly love is a fine practical balance to the destructive nature of obsessive romance, and a book with an empowering and refreshing atmosphere of practicality to see through emotions and masks of all kinds. Although 9th in the series, THE SQUIRE'S QUEST does work as a stand-alone in and of itself for readers new to the series.

The beauty of THE SQUIRE'S QUEST is in its ability to reach a wide audience at multiple reading levels from a modern introduction to the Arthurian world for young readers all the way to the finer literary allusions and twists to delight Arthurian literary scholars. Inspired by the lesser widely known work CLIGES by Chretien de Troyes, THE SQUIRE'S QUEST brings modern sensibilities and humor to the parody on courtly love, revealing the absurdity of those codes. THE SQUIRE'S QUEST is a must read for medievalists --- at least those who delight in medieval literature enough to enjoy a modern imaginative reworking of the classics. Even religion is not spared his humorous look --- but that humor is not so much anti-religion but rather the kind of insider's humor born from an ability to laugh at one's own seriousness. Readers are encouraged not to skip over the author's notes at the end. Although not everyone will agree with his assessment of Chretien de Troyes' LE CHEVALIER DE LA CHARRETTE as very bad (but may also delight in the humor of that statement in view of his own novel), the author gives a wonderful description of fiction vis-a-vis history that will delight all story and literature lovers, a theme reinforced thematically within the novel itself. Gerald Morris brings these insights into his tale as he reworks the Arthurian tale into a novel that is both faithful to the tradition and altogether new. For Arthurian literature fans of all ages, THE SQUIRE'S QUEST is a a keeper!

Publisher: Houghton Mifflin Books for Children (September 28, 2009)
Reading Level: Ages 9-12
Series: The Squire's Tales

Previous books in the series: The Squire's Tale (1), The Squire, His Knight and His Lady (2), The Savage Damsel and the Dwarf (3), Parsifal's Page (4), The Ballad of Sir Dinaden (5), The Princess, The Drone and the Dung-Cart Knight (6), The Lioness and Her Knight (7), The Quest of the Fair Unknown (8)


Review courtesy of Amazon Vine