Medieval Connections
Store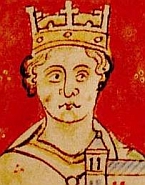 King John from Historia Anglorum




King John's tomb in Worcester Cathedral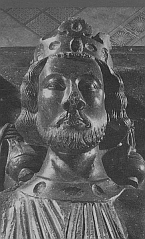 Effigy of King John from tomb

Medieval Book Reviews !
All Things Medieval !
HOME
MEDIEVAL ROMANCE
MEDIEVAL MYSTERY
MEDIEVAL FICTION
MEDIEVAL ECHOES
AUTHORS
The Warlord's Bride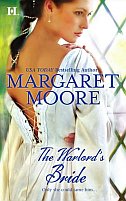 by Margaret Moore
Light medieval romance even in the darker moments with passionate yet gentle hero
1205, Wales. Lord Alfred and Lady Rosalyn de Garlebonne arrive at Llanpowell after crossing territory more savage than her home in Lincolnshire. At the behest of King John of England, Lady Rosalyn has been spared the fate of her traitorous husband, but can marriage to Lord Madoc of Llanpowell, a man known as the "Beast of Brecon", prove much better than widowhood? Fiery, daring and outgoing, the warrior proves to be a man of passion at first and yet Rosalyn begins to see a gentle side to Madoc. A man of restraint, Madoc has a kindness towards others, even those who threaten him, a kindness that somehow belies the threatening moniker by which he is known. When his love turns cold, can she rekindle the fire in his heart? Can she uncover the secrets that torment him and protect him from the dangers that threaten Llanpowell?
Through the characterization and dialogue of Madoc and Rosalyn, Margaret Moore's

THE WARLORD'S BRIDE

adds humor and drama to the classic medieval romance set-up of a heroine being sent by the king to be a wife. For every question or statement from Lady Rosalyn or Lord Alfred, Madoc has an unexpected reply. Lady Rosalyn herself is no push-over submitting thoughtlessly to being a pawn despite the circumstances of her past. As their two personalities collide, the sparks fly. As they come together in private as well as in the daily running of Llanpowell, each discovers the tender, more hidden inner vulnerability of the other. Passion turns to love as Rosalyn and Madoc come to know each other more intimately, not just as husband and wife but as a man and woman who care deeply about each other.
Margaret Moore's

THE WARLORD'S BRIDE

provokes a certain amount of torn feelings in this medieval enthusiast. The beginning is fantastic --- a true delight with a hero whose unexpected dialogue and behavior refreshes with a delightful sense of originality. I thought I would adore the book for that alone.

THE WARLORD'S BRIDE

is a fast paced romance with a light style even in the darker moments. Unfortunately, the rest of the book does not match up to the fine beginning. The plot and characterization became more shallow overall, though moments of excitement and the culmination of an intriguing subplot liven up the last half of the book. Medieval details are accurate and woven seamlessly in the story but the history remains more in the background with little mention beyond food, the initial behest by the Plantagenet king, and other small details. I would recommend Margaret Moore's

THE WARLORD'S BRIDE

to romance lovers looking for a medieval romance with more romance than history. The passionate but gentle hero and the unusual initial predicament of the heroine, and later of the hero as well, do intrigue. Medieval enthusiasts, or fans of the historical aspects of historical romance, however, are likely to crave more history and a history more central to the romance than they will find in this romance.
Publisher:
HQN (January 2009)
Book Description:


Lady Roslynn knows not what to expect of her future husband, the infamous "Bear of Brecon." Offered in marriage to the powerful Welsh lord by the king, Roslynn fears the worst. She has no right to hope for a love match, but in her heart the lady dreams of a home and family of her very own.…
One look at Lord Madoc of Llanpowell makes her blood run hot. The rugged warrior proves a passionate lover and attentive husband—but too soon turns cold and aloof. And when secrets from Madoc's past threaten to take him away from his bride, Roslynn knows their future together is at stake. Can she uncover the truth beneath her warlord's armor and lay siege to his heart?