Medieval Book Reviews !
All Things Medieval !
HOME
MEDIEVAL ROMANCE
MEDIEVAL MYSTERY
MEDIEVAL FICTION
MEDIEVAL ECHOES
AUTHORS
Shadow Rider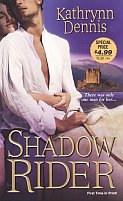 A Devil's colt, a shadow rider, a horse midwife, and a murder
to be avenged in 14th century England!


Sir Guy of Warwick is on a mission to avenge the murder of his sister and her child, but first, this shadow rider, a man haunted by their deaths and half dead more than alive in his soul, must discover the murderer's identity and have proof of the crime. Horse midwife Sybilla Corbuc awaits the foaling of her mare. Everything rests upon the birth --- her heart, her financial future, and indeed her very freedom. The local village priest Father Ambrose has forbidden the practice of horse midwives under the threat of severe penalties in an effort to stamp out witchcraft. When Addy delivers her foal, with Sybilla's help, it could not be worse --- a black colt with four white stockings, a devil's colt! Seeing Sybilla threatened by the local church, Sir Guy spots an opportunity to free himself from charges of theft and to achieve his long quest. The seer Lady Morna had predicted that a colt matching this description would lead him to the murderer. Striking up a bargain to protect themselves, can the birth of this mystical colt bring these two together or will one of them finally succeed in wrestling Regalo from the other's control? With danger at every corner, can Sybilla and Sir Guy protect the colt, find the murderer and keep safe from all those plotting against them?

In her second medieval historical romance, Kathrynn Dennis gives her readers a fabulous medieval tale of passionate romance and riveting adventure centered around a horse, a strong independent heroine, and a sexy, mysterious wounded hero. Sybilla is a woman accomplished in the art of healing animals and a woman bent on freedom. At odds with the local religious authorities for her power to heal animals, she has a gift that cannot be denied, especially not when it comes to care of this special foal. Sir Guy is as handsome as he is dangerous, especially as his past comes to the forefront. Haunted by guilt and grief over his sister's murder, he will do anything to seek justice. Forced together by need and prophecy, Sybilla and Guy must learn to trust one another. In the creation of her hero and heroine, Kathrynn Dennis creates a romance that touches the heart as Sybilla and Sir Guy wrestle with an inner vulnerability from the past while also facing danger from several corners, known and unknown.

SHADOW RIDER draws the reader into the characters' emotional lives. In describing the financial hardships and the tough choices they have to make, Kathrynn Dennis brings her readers right into the medieval world as well as into the intimate dreams and difficulties of families. Readers will be particularly moved by the portrait of Sybilla and her mother, a portrait that shows Sybilla's determination and her strength of character. Kathrynn Dennis has a knack for writing some wicked villains in her romances and the villains here were so perfect --- and so medieval! Oh, my, were there some exciting twists and nice surprises towards the end of the book! SHADOW RIDER sets up a fantastic backdrop with its combination of societal intrigue and personal vendettas from which the romance of her characters achieves a richness and emotional depth from which the goodness of her main characters truly shines. Kathrynn Dennis' veterinary profession along with her knowledge of medieval horsemanship gives her medieval romances a unique, fine insight and style within the genre. SHADOW RIDER s a must read for horse lovers and medieval junkies alike!
Visit Kathrynn Dennis at her web site
Sybilla Corbuc has an uncommon understanding of the horses she cares for, but there are men who distrust such wisdom in a woman. Forced to become a nobleman's servant to avoid prison, Sybilla finds herself bound by chains that are stronger still—she cannot deny her passionate feelings for her new master, Sir Guy of Warwick. Neither is prepared to submit to the other, but his dark eyes and his unbridled desire are too potent a force to resist…
Brought together by the birth of a mysterious colt, an animal of supernatural power that may foretell their destiny, they embark upon a perilous journey as the kingdom crumbles around them, a journey that will bring them ever closer to each other—and to the danger that lies ahead. And only love can save them…
Dark Rider


Shadow Rider